Prego Translation


by

ved

di

Lisa Hersild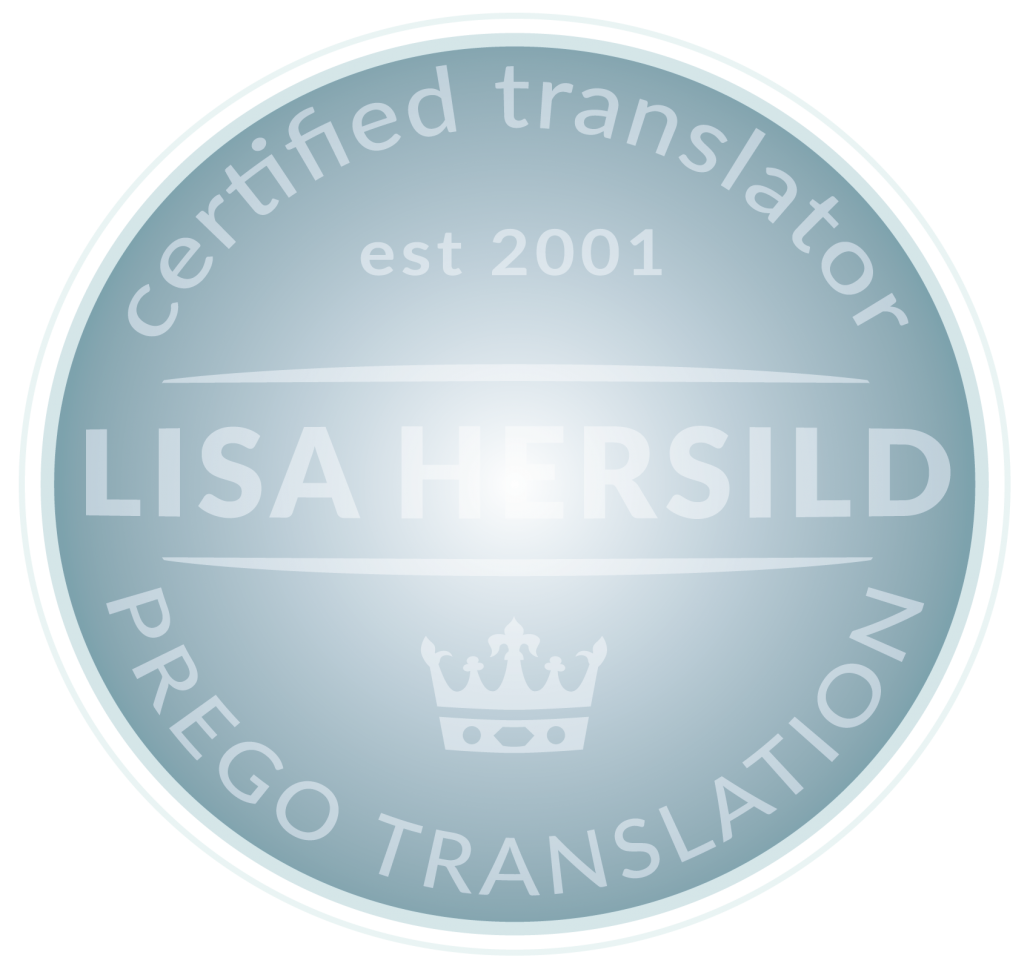 Since 2001 I have been working as a certified translator in the language combination Italian-Danish, and I also assist as an interpreter at between business partners. Since 2008 I have been working as a tour guide in Italy in the regions Tuscany, Campania and Sicily.
Certified translator Italian-Danish
I offer translations to companies and individuals within different areas of specialization, such as legal, economical, technical texts and other general texts, ie. correspondence, tourism, private documents etc. I am registered at The Danish Chamber of Commerce (Dansk Erhverv), The Italian Consulate and Danish Police and can assist in the legalization of translations if requested by the Authorities. Self-employed translator since 2001
Member of ADATI – Association of Danish Authorized Translators and Interpreters
(Member of the Board 2007-2009)
Member of AITI – Associazione Italiana Traduttori e Interpreti.
Interpreter and teacher/external lecturer
I assist as an interpreter at meetings and fairs between Danish and Italian business partners where a precise communication and knowledge of both cultures is essential. I also offer customized courses for both companies and individuals in Italian – intensive short or long-term.
External lecturer at CBS – Copenhagen Business School – at the Master's Degree in Italian teaching the courses Legal, Economical, Technical language and Business Correspondence from 2006-2009.
Since 2008 I have been working as a tour guide for the travel agencies Albatros and Kulturrejser Europa in Italy, and this means travelling and staying in Italy 2-3 months every year; this has given me a profound insight in Italian history and I keep myself updated on politics, economy and on the development of the language.
Tour Guide in Tuscany, Campania, Sicily, ad-hoc-tours and teaching Italian for beginners.
Translations Tools / CAT-tools
I work with the newest translations tools on big volume translation projects in order to ensure consistency in terminology and be able to offer discounts on larger manuals or repetitive texts.
STUDIO Trados 2015, MemoQ, Transit NXT
The Office in Sværtegade, Copenhagen
In Sværtegade we are 7 translators in the languages Italian, English, German, French and Spanish; this gives us a professional community and the possibility to take in translations in more linguistic combinations.
Here you can download my CV or read more about recent cases and clients.
Agricultural and construction machines
Caterpillar, Komatsu, Massey Ferguson, New Holland, AGCO
Certified translations
Diplomas, wills, birth, divorce, separation and other legal documents
Articles, correspondance, brochures etc.
Sybari, Kabooki Lego Wear, Arjo, Microsoft, T-Systems, Fiat FGA
Automotive industry
Fiat, Alfa Romeo, Piaggio, Aprilia, Lancia, Toyota, Lexus, Mitsubishi, Ford, Chrysler, Brembo
European union
European Court, European Parliament
Insurance companies
Tryg, Topdanmark
Interpretation
Danish Police, various fairs and business meetings
Technical manuals
Adige-Sys Fiberlaser, Iemca Automatic Bar Feeders, Pesce srl Automated Orientation, Montini trucks, Flexotecnica, Tetra Pak, Bunzl, Ricoh, Hycon, Futura srl
Tv, videocamera etc.
Panasonic, Samsung
Tourism and travel
Menus, brochures, pricelists, catalogues, websites
Websites
www.venicehotel.com, www.book-bornholm.dk, www.gardenparadiso.it, www.lagolevico.com, www.quietstable.dk, www.newyork60.com, www.campingmario.com, www.santangelo.it, www.unionlido.it, www.abcomunicazioni.it, etc.
Language combination
Italian – Danish – Italian
English – Danish – English
Types of translations
Legal: contracts, civil law, criminal law, commercial law, certificates, sworn translations IT-DA-IT
Technical: manuals, technical documentation, safety data sheets
Economic: balance sheets, annual accounts, statements, financial articles
Commercial: brochures, commercial texts, correspondence, websites
Revision, proofreading, subtitling
Hardware: LENOVO laptop, broad band internet connection
Software: Windows Office 10, Transit NTX, MemoQ, SDL Studio 2015
Work experience
Freelance translator full-time since 2001.
Tour guide on trips to Italy for Albatros Travel and Kulturrejser since 2008.
Teaching Italian courses for privates and companies (Clipper Group, B&W, Ferrero, iGuzzini).
External Lecturer at the Copenhagen Business School teaching the following courses
"Translation of legal, technical and economical texts Italian-Danish" since 2006.
Interpretation at various fairs and company meetings. Court and police interpreter.
Credentials
Registered translator at the Danish Foreign Ministry, Italian Embassy, Danish Police.
Member of the Association of Danish Authorized Translators (Member of the Administrative Board 2007-2009).
Member of AITI, Italy, Veneto Region.
Education
MA in translation and interpretation Italian/Danish from Copenhagen Business School 2001.
BA in business language English/Italian/Danish from Copenhagen Business School 1998.